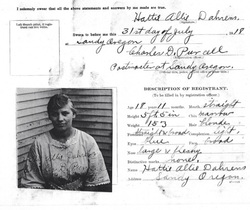 In the Winter 2014 issue of the Oregon Historical Quarterly I published a portion of my new research on women and civil liberties during the First World War. Federal legislation in place from 1907 to 1922 stripped U.S. born women of their citizenship if they married non-citizen men. Oregon women in this situation who married German men were surveilled and had to register as enemy aliens. They resisted this status in a variety of ways.

"From Citizens to Enemy Aliens: Oregon Women, Marriage, and the Surveillance State during the First World War," Oregon Historical Quarterly 114 no. 4 (Winter 2014): 427-442. Image: Hattie Dahrens, Enemy Alien Registration File, World War I Alien Registration Forms, Oregon, Oregon Historical Society Research Library, Portland, Oregon.




---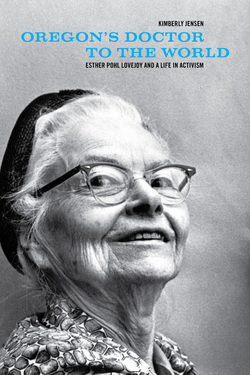 In 2012 I published
Oregon's Doctor to the World: Esther Pohl Lovejoy and a Life in Activism
(University of Washington Press).
Esther Clayson Pohl Lovejoy (1869-1967) shaped an influential and consequential life of progressive activism as an Oregon physician, public health policymaker, suffrage activist, congressional candidate, historian, and as an organizer and director of transnational networks among women physicians to provide global medical relief. Yet because most of Lovejoy's papers have not been available to scholars until very recently her work and contributions could not be analyzed in depth. These papers, in addition to a wealth of other archival, newspaper, and secondary sources, establish the foundation for a rich history of Lovejoy's life and activism. Her early life and career in the Pacific Northwest gave her key experiences with and strategies for "constructive resistance" (a phrase she used to describe it) and shaped her subsequent transnational activism. Lovejoy's biography offers the possibility of studying, from the perspective of one long and eventful life, strands of feminist activism from the local to the regional, national, and transnational. Through her experience we can also trace evolving medical systems from local public health and systems of women's medical practices to transnational medical relief and international health.
Born in a logging camp in Seabeck, Washington in 1869, Lovejoy graduated from the University of Oregon Medical Department in 1894, accompanied her husband Emil Pohl to gold rush Alaska for adventure, mining, and medical practice, and served on Portland's city health board from 1905-1909 and as the city public health officer from 1907-1909. She campaigned for woman suffrage in Oregon in 1906 and 1912 by supporting new groups of suffragists and forming a coalition for victory. She was active in the national movement for suffrage through the passage of the federal amendment in 1920 and maintained her loyalty to Democratic Party politics in the face of opposition from a prominent national suffrage organization, the Congressional Union. She ran unsuccessfully for Congress in 1920 as the Democratic and labor candidate from Oregon's Third District. Lovejoy's only son Freddie died in 1908 and her first husband Emil died in Alaska in 1911. A second marriage to George Lovejoy ended in divorce in 1920. During World War I Lovejoy went to France as a representative of American women's organizations, including the Medical Women's National Association and the Women's Committee of the Council of National Defense, to study the public health needs of women and children in devastated areas. Her public health work and political activism in Portland prior to World War I and her work during the war convinced Lovejoy that most disease, suffering, and death were caused by social and economic inequities and wars between nations. They were therefore preventable through organized action.
Lovejoy's evolving critique of war and militarism through her first-hand experience with those who suffered, her considerable experience in fund-raising, public speaking, organizing, and managing a city health department, and her contact with international medical women in the context of the World War all contributed to her success in developing a medical relief organization and in organizing and leading efforts among women physicians to establish international networks and cooperative activism. In 1919 Lovejoy agreed to take the chair of the American Women's Hospitals, a medical humanitarian relief service for civilians and refugees established by the Medical Women's National Association of the United States during the World War. Lovejoy developed an international vision for cooperation among medical women as organizer and first president of the Medical Women's International Association (1919-1924) and connected this vision to her career with the American Women's Hospitals throughout her life. As the scope of the American Women's Hospitals expanded into the Balkans, Greece, and Russia, to Japan, the Philippines, and Latin America, Lovejoy believed that medical women, cooperating across national boundaries, could organize medical relief and support local health care providers in devastated regions. Rather than sending American doctors and personnel to take over the work of local health care providers, they would provide the "corporate structure" and raise funds to support local communities in need. Such medical relief and global organization and cooperation among medical women had the potential to change the world by empowering communities, bridging national boundaries, and challenging state policies that caused disease and suffering. It would also unite women with a common goal.
Lovejoy was also an influential historian and advocate for medical women and international medical relief to a wide public audience with the publication of four major works. These include the
House of the Good Neighbor
(1919) an account of her wartime work in France in a settlement house for women and children;
Certain Samaritans
(1927, 1933), a history of the American Women's Hospitals civilian medical relief work;
Women Physicians and Surgeons
(1939), a history of the American Women's Hospitals and the Medical Women's International Association, and her epic
Women Doctors of the World
(1957), an international history of medical women and medical education.
---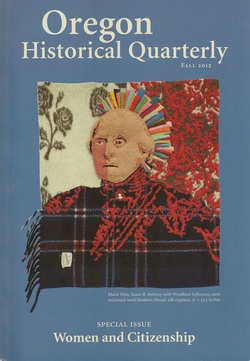 To commemorate the centennial of the achievement of woman suffrage in Oregon, Eliza Canty-Jones, editor of the Oregon Historical Quarterly, invited me to serve as guest editor for a special issue on women and citizenship in Oregon History.
Contents:
Kimberly Jensen, "Women and Citizenship in Oregon History"
Sheri Bartlett Browne, "'What Shall be Done with Her?' Frances Fuller Victor Analyzes 'The Woman Question' in Oregon"
Emily Zeien-Stuckman, "Creating New Citizens: The National Council of Jewish Women's work at Neighborhood House in Portland, 1896-1912"
Peggy Nagae, "Asian Women: Immigration and Citizenship in Oregon"
Janice Dilg, "From Coverture to Supreme Court Justice: Women Lawyers and Judges in Oregon History"
Jacqueline Dirks, "The Straight State of Oregon: Notes Toward Queering the History of the Past Century"
Kay Reid, "Multilayered Loyalties: Oregon Indian Women as Citizens of the Lane, Their Tribal Nations, and the United States"
Jean M. Ward, "'The Noble Representative Woman from Oregon": Dr. Mary Anna Cooke Thompson"
Karen Lea Anderson Peterson, "The Lucy Davis Phillips Collection: Finding the Lost Women Graduates of Oregon's Medical Schools"
Marcela Mendoza, "Latinas and Citizenship in Oregon"
Linda Long, "Equality, Politics, and Separatism: The Papers of Oregon Feminists in the University of Oregon Libraries"
Natalia Fernandez and Tiah Edmunson-Morton, "Women of the Oregon Multicultural Archives"
Jessica Tollestrup, "Women and Oregon Political History: The Researching and Writing of Up the Capitol Steps"
Austin Schulz and Mary Beth Herkert, "Chronicling Women's History at the Oregon State Archives"


---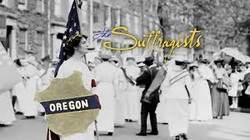 ---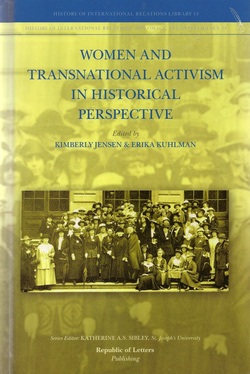 In 2010 I co-edited
Women and Transnational Activism in Historical Perspective
(Republic of Letters) with my colleague Erika K. Kuhlman at Idaho State University. The volume is a collection of essays in which the authors examine women's transnational activism from the nineteenth century to the Second World War.
In addition to co-authoring the Introduction, the anthology includes my chapter on Esther Lovejoy's transnational medical activism "Feminist Transnational Activism and International Health: The Medical Women's International Association and the American Women's Hospitals, 1919-1948."
---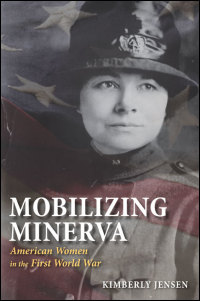 My 2008 book
Mobilizing Minerva: American Women in the First World War
(University of Illinois Press) examines the intersection of movements for woman suffrage and women's rights with the First World War and anti-violence movements. The book analyzes the experiences of three groups -- women doctors, nurses, and women who took up arms -- and their claims to a more complete female citizenship and their challenges to violence.
---