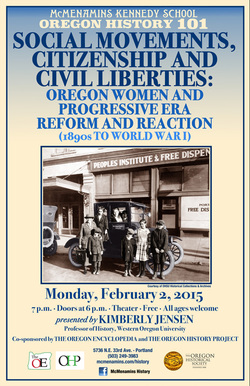 On Monday, February 2, 2015 at 7:00 p.m. I'll be participating in
Oregon History 101
, sponsored by the Oregon Encyclopedia and hosted by McMenamin's Kennedy School. The event is free to the public and doors open at 6:00 p.m.
One hundred years ago women in Oregon faced many challenges and debated gendered questions that have powerful echoes in our own day. Oregon women shaped powerful reform movements and forged new civic roles including the achievement of the vote, office holding, and jury service for women, public health and civic betterment movements, and labor reforms battling corporate interests, regulating workplaces, and making education more accessible to women. Some Oregon women identified reproductive rights and safety from gender-based violence as key civil liberties at a time when the surveillance state was expanding its reach. Diverse women were active in clubs and associations as an expression of their civic roles and lobbied for legislation and created institutions to benefit women and their communities.
Yet Oregon women were also divided in their visions of female citizenship and how to make a better society. And they faced challenges to their expanded civic activism. Some women campaigned for the prohibition of alcohol and eugenic sterilization as their expression of a better community. Many women of color, wage-earning, and Socialist women challenged privileged structures of whiteness and the capitalist state. Diverse women debated the nature of sexuality and gender roles even as local and state officials sought to define and constrain them. And several key court cases framed debates about women's civic and economic roles in the industrializing state. Oregon women's activism during this period is a vital part of our state's history and the history of the Progressive Era in the nation.